Congratulations to the 2020 Recipients of the
Lawrence J McKirryher Jr.,

Memorial Scholarship

This year, our Scholarship Committee selected Madison Guay (West Rutland High School), Benjamin Chilkott (Granville NY High School), and Jillian Conway (Rutland High School) as deserving recipients of this $1,000 scholarship from the Credit Union of Vermont. Congratulations!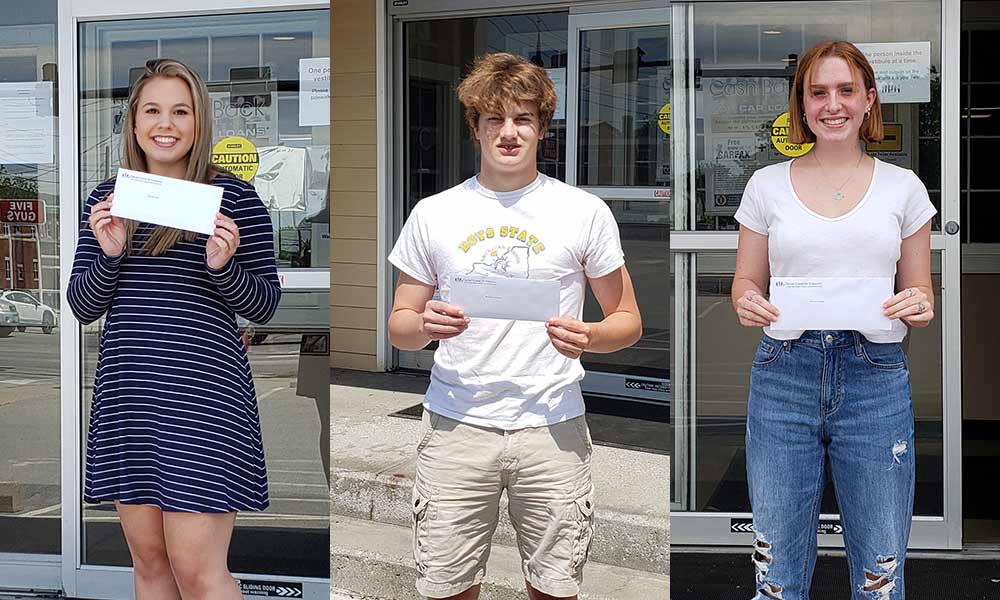 Updated - Credit Union of Vermont Response to Coronavirus
In order to protect our staff, members, and community our lobby is now closed to members. However, we have installed a "Walk-Up Teller Window" in our entryway vestibule and it is now available for your express transactions. For additional services, we offer "curbside service" including opening accounts, so please call us at 802-773-0027 and we will meet you at your car.
I assure you that your caring and highly capable credit union staff is here and working hard for you. The credit union, entryway, ATM, night depository, are cleaned frequently throughout the day and hand sanitizer is available at the walk-up teller window.
We would also like to remind you of the various ways in which you can access our products, services, and staff from the convenience of your home:
Private Branch-24 Online Banking at www.CUVermont.coop
Private Branch-24 Telephone Banking at 877-596-8728
The Credit Union of Vermont Mobile App
ATMs
Our Night Depository is located adjacent to our ATM at the credit union. Envelopes are provided for your convenience. Deposits will be credited to your account Monday – Friday by approximately 8:30 a.m.
Text us at 802-773-0027 or Email us at info@CUVermont.coop
As always we will of course answer your calls in person at 802-773-0027 during our regular hours of 8:00 a.m. – 5:00 p.m. Monday through Friday
It is a genuine pleasure to serve you. Thank you for your membership in the Credit Union of Vermont!